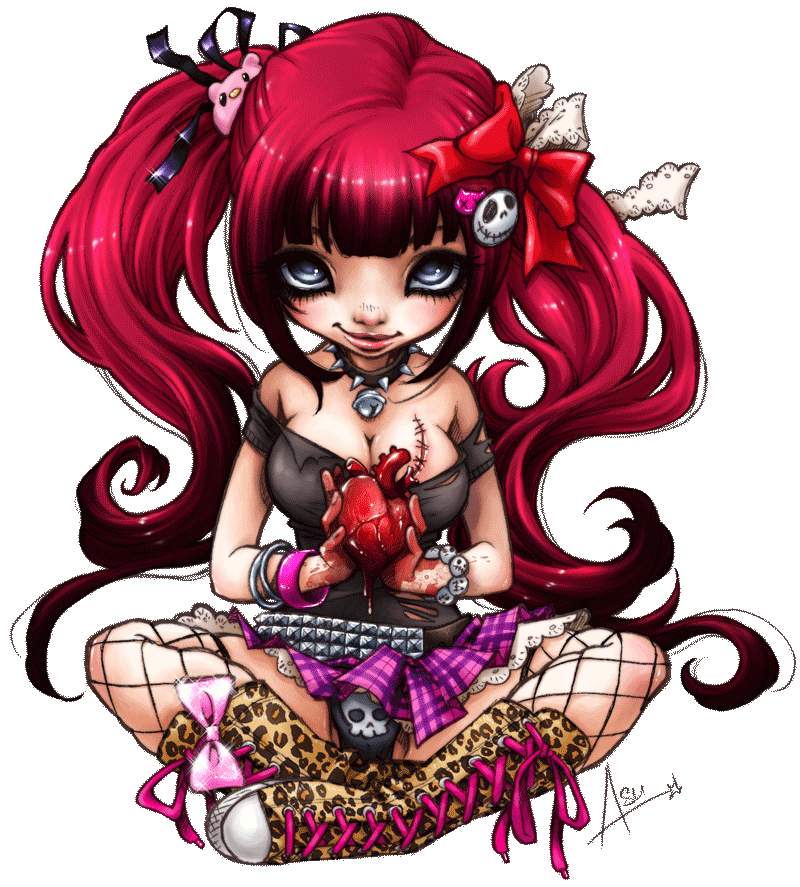 Party like it's 2006!
Back then, us old people (or geriatric millennials, as I think we are called now) had blogs. It was like social media, but only about us.
Funny enough social media was one of the main reasons I abandoned the blog I had for over 10 years. It was just so much more convenient and soooo gratifying. You just post something and often get a reaction seconds later (or a shitton of reactions if you're lucky). And you were constantly surrounded by people who were also posting stuff.
A blog is lonely compared to that. Somebody has to actively choose to visit your blog. Honestly I don't know if many people will choose to visit this one. Most definitely most of the 1000s of Instagram followers won't, they rarely leave the platform (and Instagram makes sure to make it even harder for them). But maybe someone will come and maybe they will realize that there is a freedom in having your "own" online home.
The social media that lured me away from my blogging roots is also the main reason why I now want to go back.
I am exhausted.
What began as a fun community experience and even somewhat of a "business" has become some sort of toxic relationship.
What will Instagram like today? Posting photos will just not cut it anymore. Make videos! Also post regularly! But not too often! And use hashtags! But not the same ones in every post. Also some of them we don't like here, they are actually banned. But we won't tell you which ones. Just gamble! Oh, maybe you have been shadowbanned for bad behavior. But we won't tell you. You have to guess what behavior pleases daddy Instagram and what will make him angry. What we definitely hate are BOOBS. But we also hate a lot of other things. But as usual: we won't tell you. Just stay in a forever guessing game and keep posting!
You might have noticed that creatives on Instagram are censoring the word "Patreon" to avoid punishment (your post just gets shown to way less people). Same thing happens if you dare to post a link on Twitter or Facebook. Apparently some words cannot be said in videos on different platforms to avoid punishment.
One could argue that as providers of the platform they are allowed to make their own rules. That we are getting a service for "free", so we can at least obey those. Which is fine. It's just the way those rules are secretly implemented and constantly changed leaves you in a state of addiction: sometimes what you post works and you get all the attention and feel absolutely awesome! But other times nothing seems to work and you keep guessing what you did wrong.
I am obviously not ready to leave social media behind, although I sometimes wish I could. When there were news that Zuckerberg is threatening to shut down Facbook and Instagram in Europe because the EU won't allow him to save the amount of user data he wants, I was almost hoping this would come true.
But as I said, it's hard to convince people to go to a blog and I want to share my art with the world. So I will stay. But I also want to build a home of my own. One where no algorithm is telling me to censor female nipples or certain words. It will be less crowded for sure, but it will be mine.
---
To celebrate the return of the blog, let's look back on all the blogs it has been before: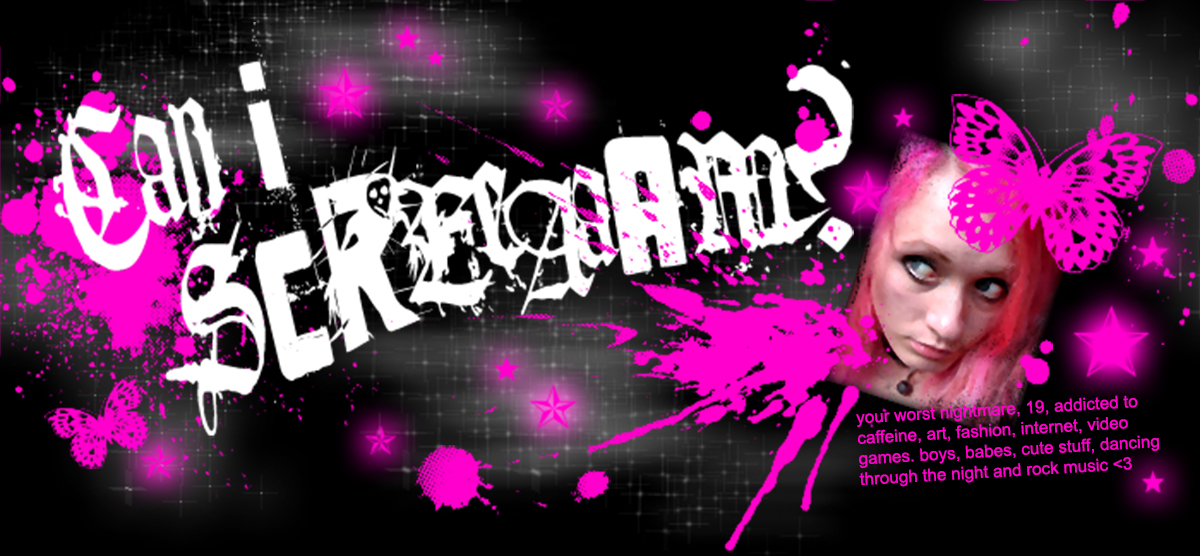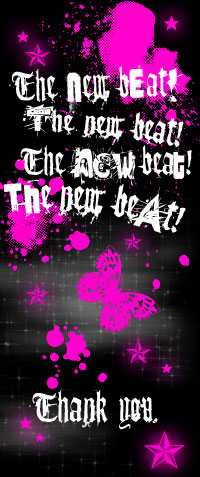 Welcome back to 2006!
This is when a pink haired emo girl started an online diary on a German platform called MyBlog. Sadly I don't even remember it's URL, so not even the Wayback Machine can remind me what deep thoughts I shared there.
The header was actually made from lyrics of "New Noise" by Refused, a song I was obsessed with since a boy I was soooooo in love with played it for me.
He was a real punk and I spent my school days daydreaming about finally having sex with him. Which never happened because he broke up with me after two weeks. I was very sad, very drunk and ugly crying for several months after that.
I do still like the song though.
---
After just a year or so I decided that my blog could use an upgrade. Which for 20-year old me meant MORE pink, MORE skulls and just MORE EVERYTHING.
And so 2007 asuROCKS was born.
I decided it was time to get an own URL. Asu was my pen name until then, but getting this as an URL proved impossible because of some university in Arizona. So asuROCKS it became. (and I'm stuck with it until now)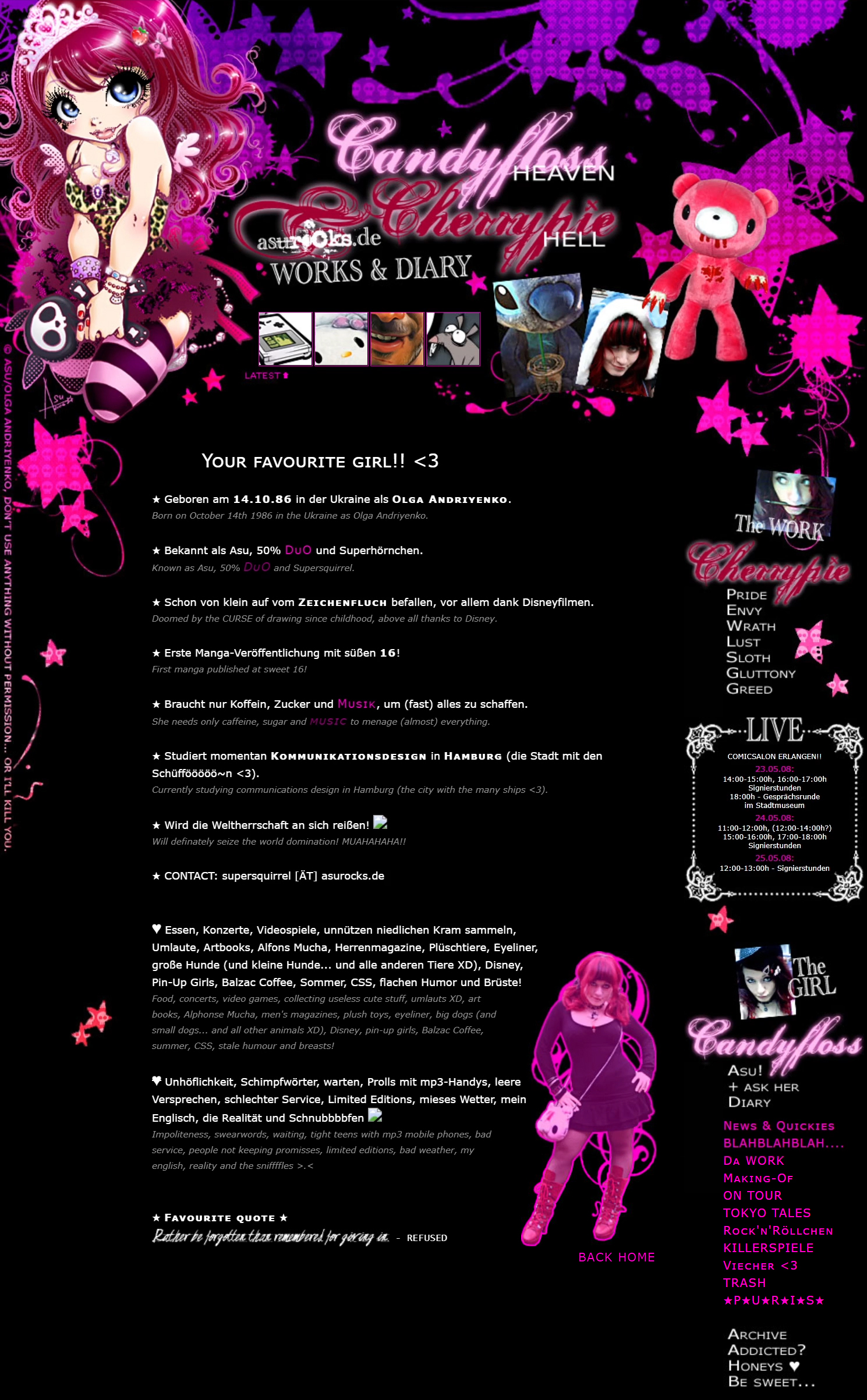 You think that was much? If you managed to scroll all the way down there were also hell flames: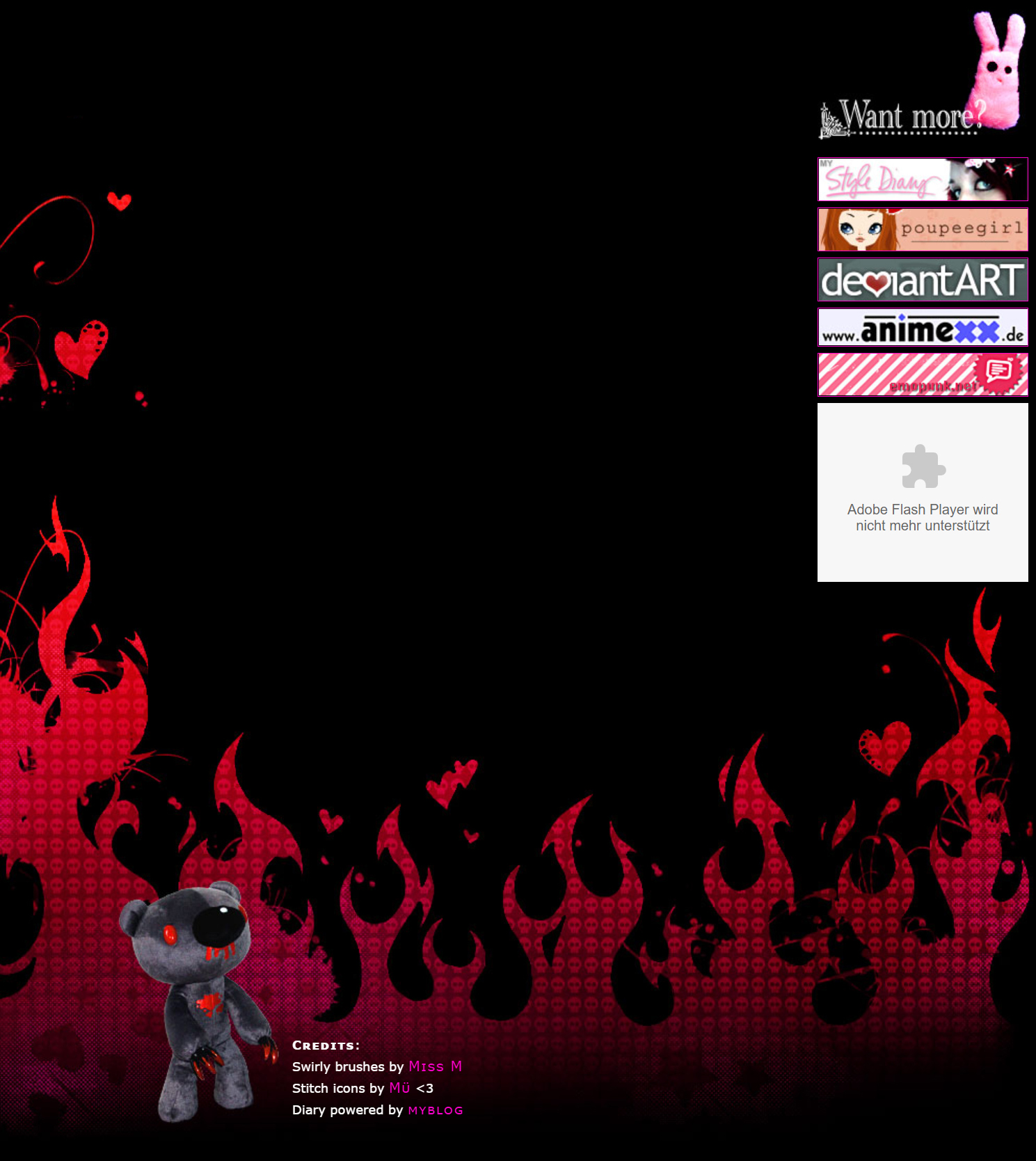 You might think this was enough, but I'm here to tell you:
NO!!
The header was also ANIMATED: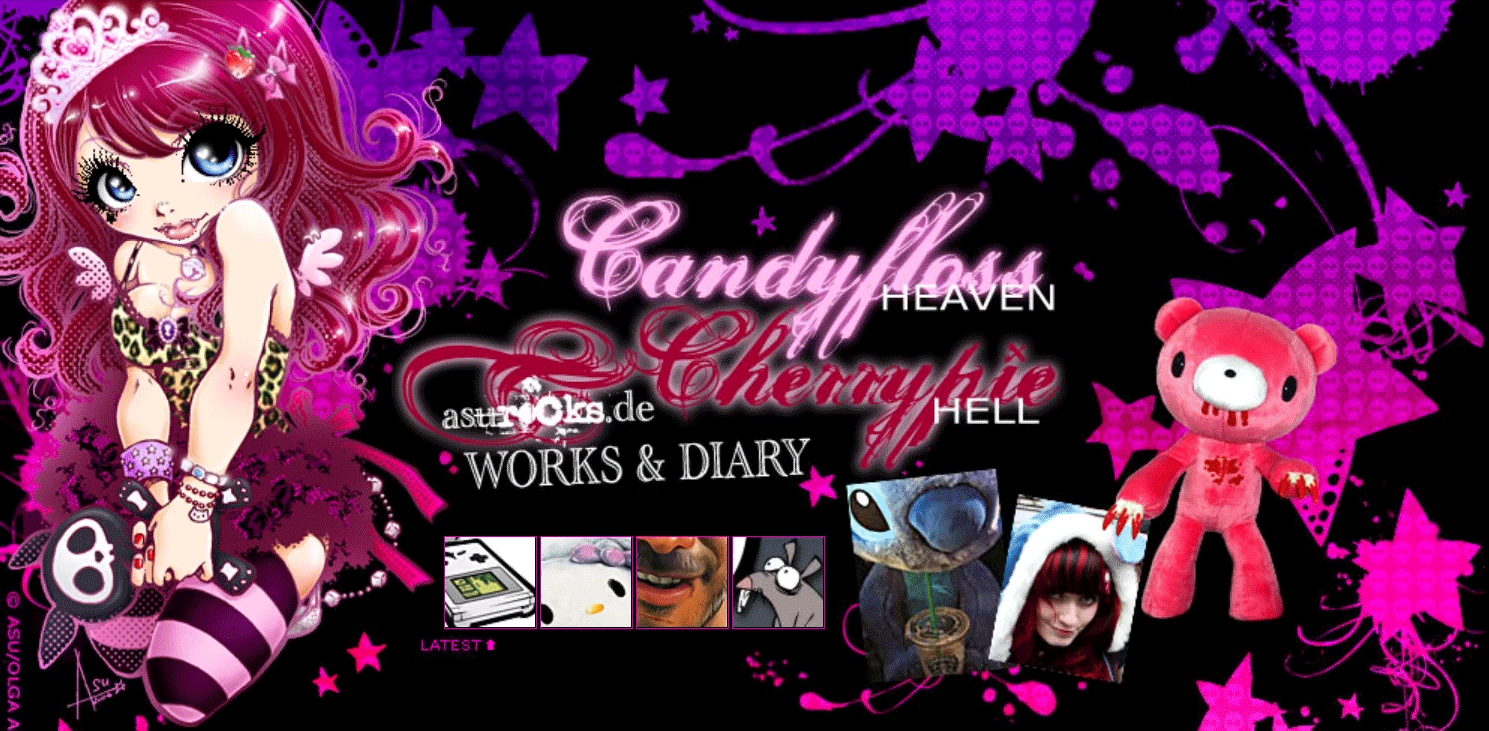 I think I was the most active back then. I wrote many cryptic emo posts, but also about food, my first trip to Tokyo (where the legendary red boots I still miss dearly came from) and going to rock concerts. The posts probably can be found somewhere, but I am not sure I want them to be found, haha.
The best part of this redesign rebirth were my hand-made pink squirrel emojis:

Should I use them again for this iteration? I'm not sure.
---
Fast forward to 2009.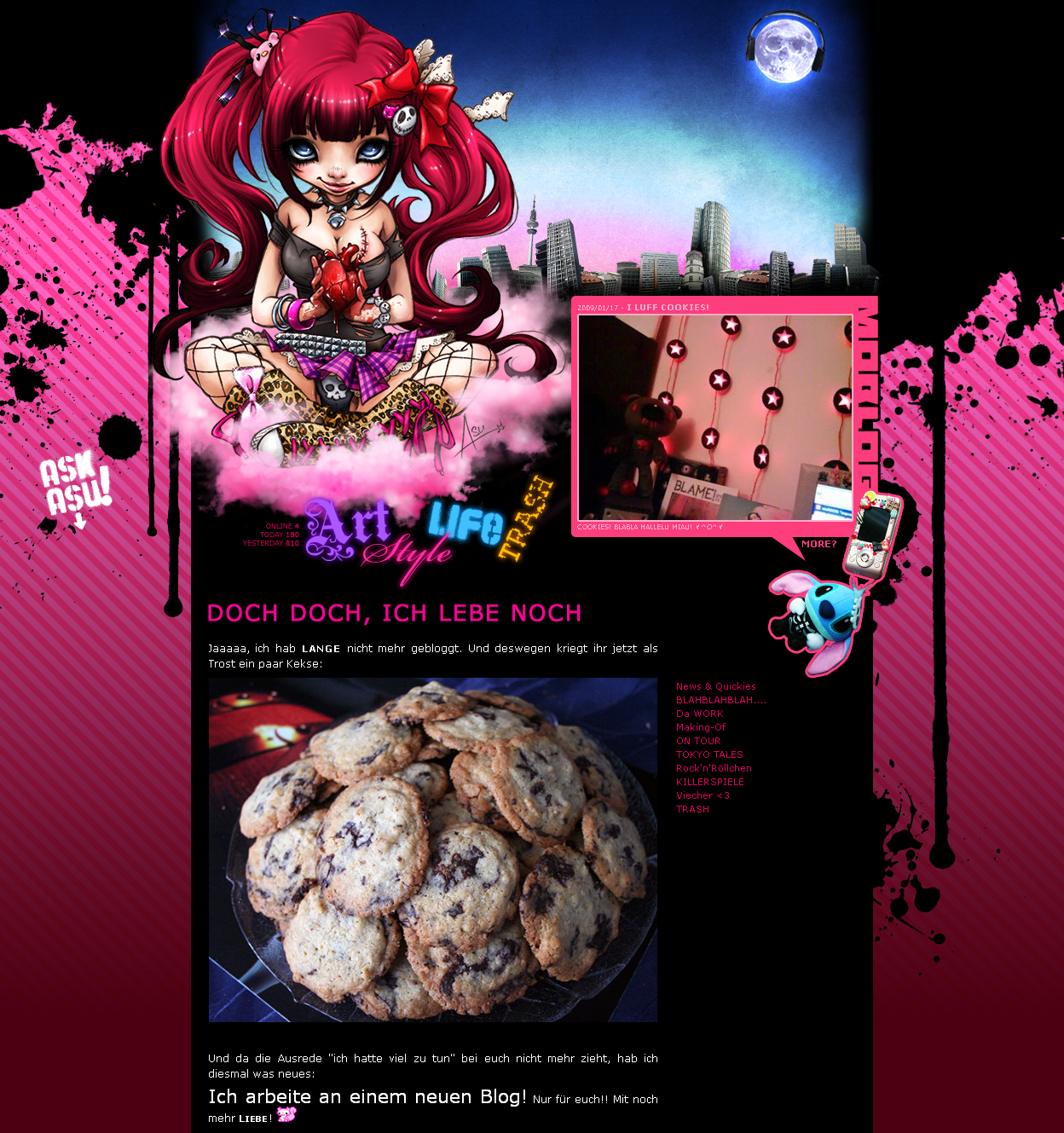 Look at my phone! OMG my phone!!!!!! This phone could take pretty decent pictures (for a phone in 2009) so tons of pictures I took! So many, that I even had a separate "moblog" on my blog to spam random pictures aside from blog posts. Basically I invented Intagram. They should thank me. XP
Also at this time I was studying communications design and I learned Flash. Which means my header was absolutely flashtastically awesome. But since no browser will display flash anymore here's a video of how awesome it was:
I am a bit sad that flash is dead. I know I could probably recreate this madness with modern technology, but… should I really?
With this rebirth I finally moved to Blogger, which means that in theory all the blog posts still exist. But unfortunately I used a photo storage service called Photobucket which at some point changed to paid subscriptions and eventually became a total mess, so probably all images are gone. That's why trusting some service to keep a history of a part of your life is dangerous, I guess.
---
2010… wait, a new design already?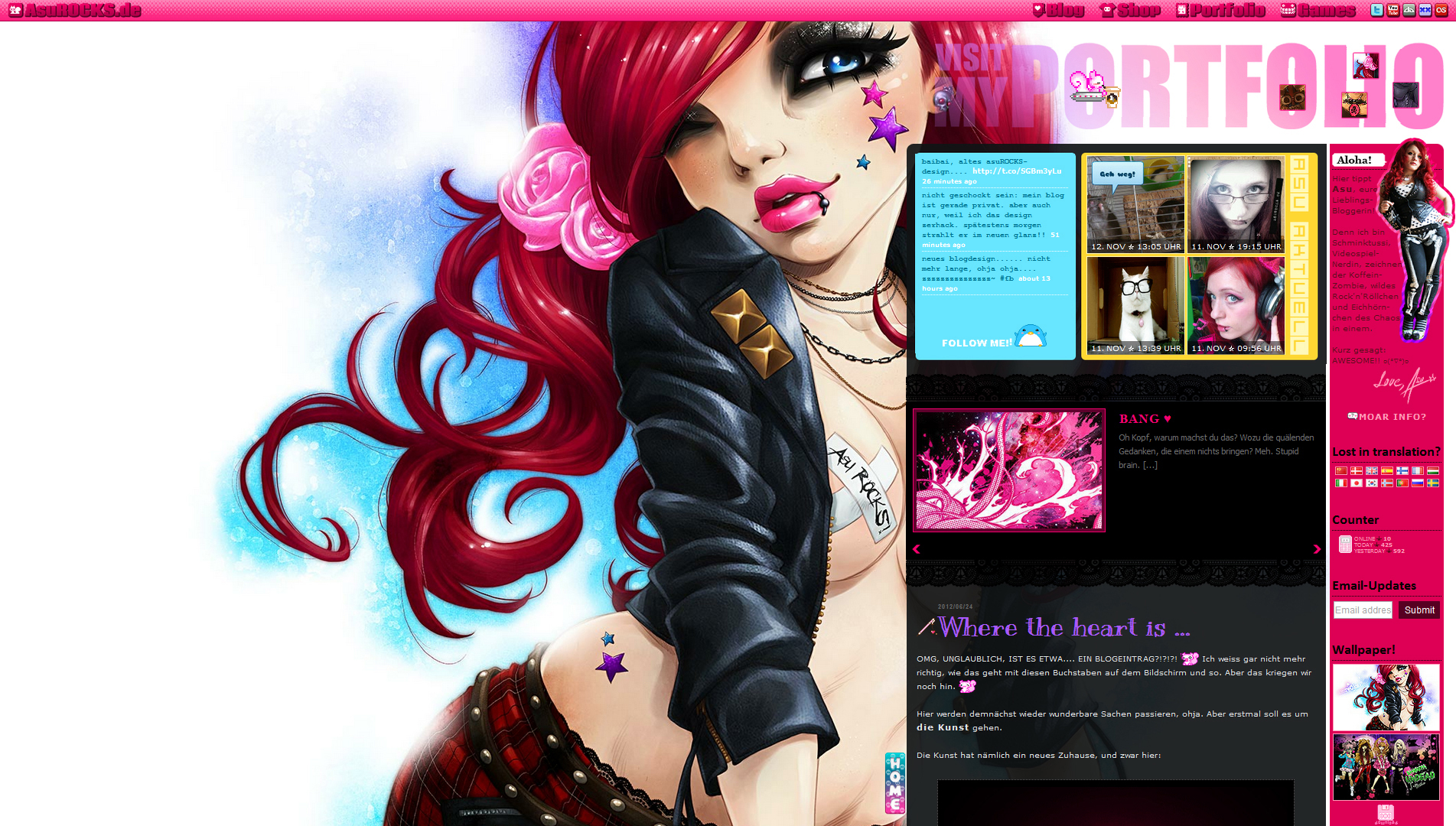 Apparently I really liked to redesign my blog…
If you think Flash was gone, you're wrong. The portfolio link header would let you shoot down thumbnails of my art with the flying squirrel. No, I am not kidding:
In case you want to know more about 2010 Asu:
I was living with my first long term boyfriend… who I refused to call boyfriend. I guess having absorbed the rules of heteronormativity I thought he had to be, if we like each other, live together and have sex. But for some reason I was not feeling it. That's how it broke apart in the end, with tons of pain for everyone involved. Which is a shame, because he was an awesome human who I still miss in my life in a way.
We had tons of rats (not all at the same time, but they were dying way too quickly for a pet you form an attachment to) and we wanted to make a living making Flash games. Which also did not work out.
A lot of things were not working out back then. ¯\_(ツ)_/¯
But at least the blog got more and more colorful. I guess this is "growing up"?
Btw. a photo version of this background illustration also did exist: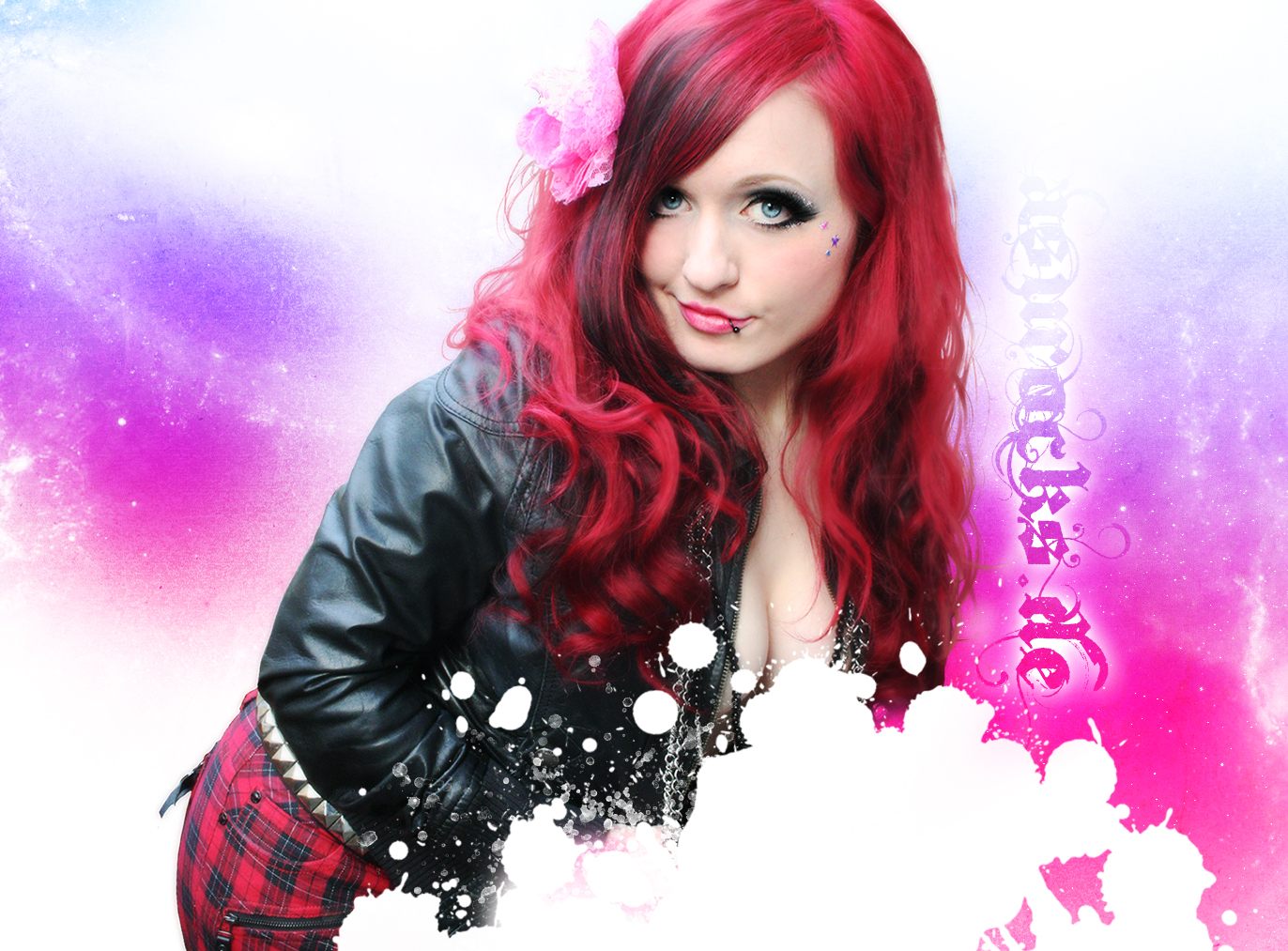 ---
2012 – the last blog design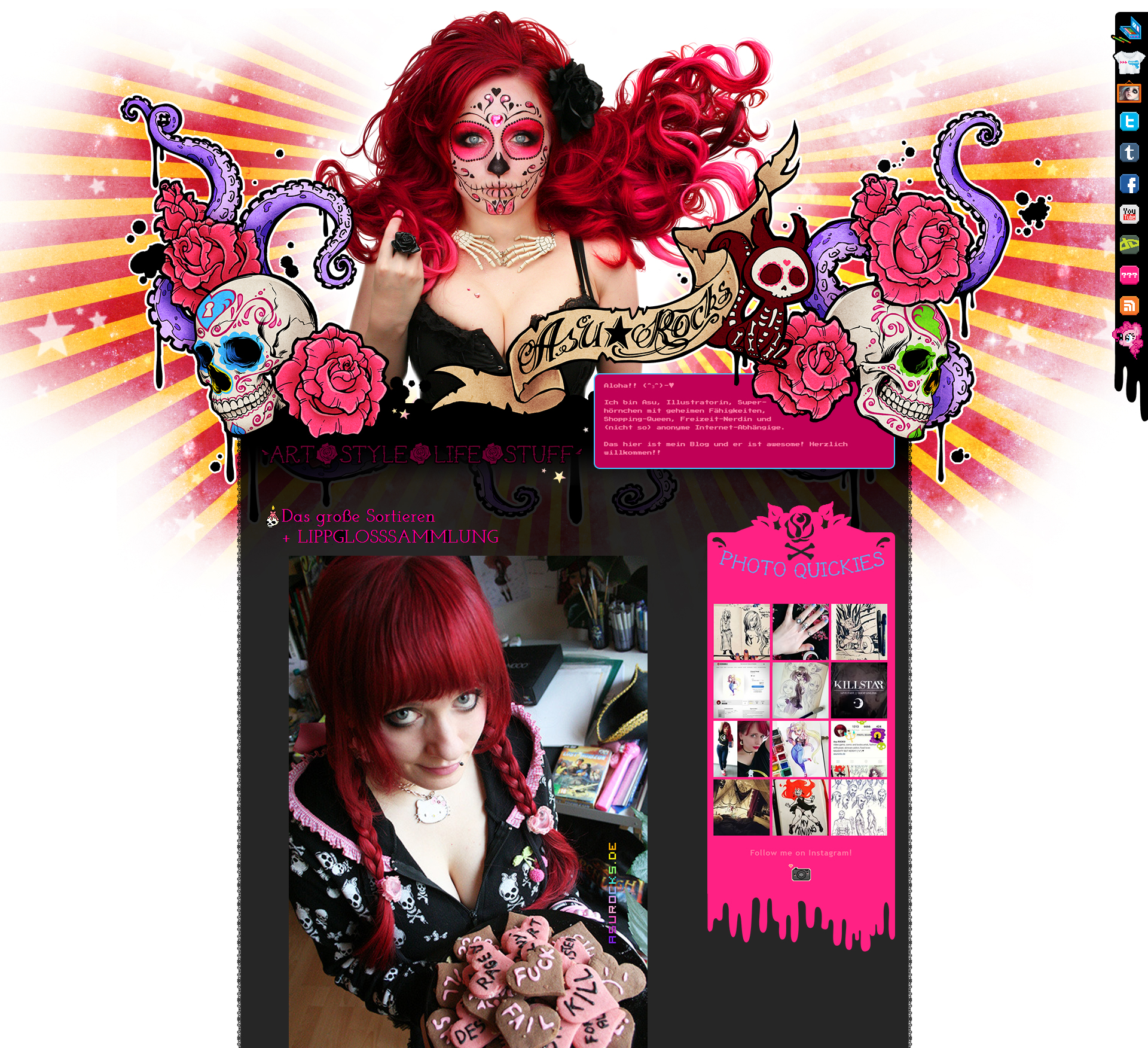 The most colorful design, the one that was live for the longest stretch of time (I think) and the one that watched the blog die.
Why did it die? Obviously because it had no Flash animations.
Honestly: a lot of things. Most prominently I had less and less time to make blog posts. Meanwhile social media was growing and using Twitter and Instagram was so much easier and more convenient than writing proper blog posts.
The last killing blow came with the new EU GDPR ruling which made website owners responsible for disclosing what user data is being saved and eventually giving visitors the possibility to opt out. My blog was using Google Analytics and tons of external scripts, so I panicked and just mad the whole thing private.
But honestly it was also a bit of a relief. By this point I barely posted anything anymore. Meanwhile if you did go back in the archive you could find edgy opinions of a 20-something year old me which I do not stand by anymore. If some bad faith Twitter activist decided to dig up some dirt to prove that I am "problematic" they totally could (probably still can, since the Wayback Machine does have some posts cached). And the concept of time and personal growth seem to be foreign to some angry people on Twitter.
I am still undecided whether I should make the effort of transferring at least some selected posts to this blog, because after all they ARE my history and it can be fun to look back. But if I do, I might do some self-censoring. Or huge content warnings for questionable posts, like Disney does for their old movies. We'll see.
The last post made on that blog was me celebrating my 30th birthday by writing about the learnings of my adult life. Can't believe it's been 6 years already.
---
After looking back on past designs it was clear to me: the new blog design has to deliver! It's still in progress, but I think it's on a good way. Although, not animated enough……….. YET.
Stay tuned for more!
💖 Olga